Membership
It takes two flints to make a fire.
- Louisa May Alcott -
American novelist and poet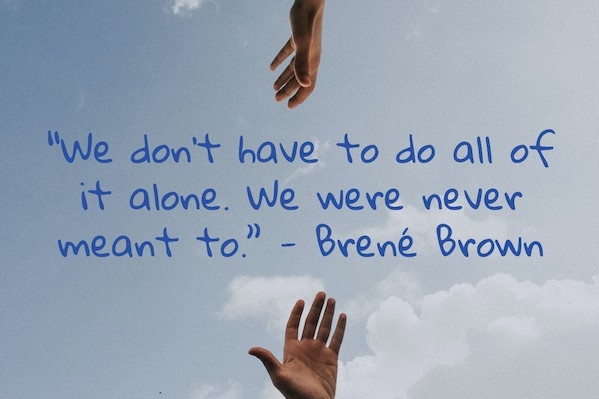 Somehow we've come to equate success with not needing anyone. Many of us are willing to extend a helping hand, but we're very reluctant to reach out for help when we need it ourselves. It's as if we've divided the world into those who offer help and those who need help. The truth is that we are both.
-Brené Brown-
Professionals
Why join LPCANC?
There are numerous great benefits of LPCANC membership and we can't wait to share them with you.
The #1 most important: a Professional COMMUNITY of practicing Licensed Clinical Mental Health Counselors.
A Professional Association - just for you in North Carolina.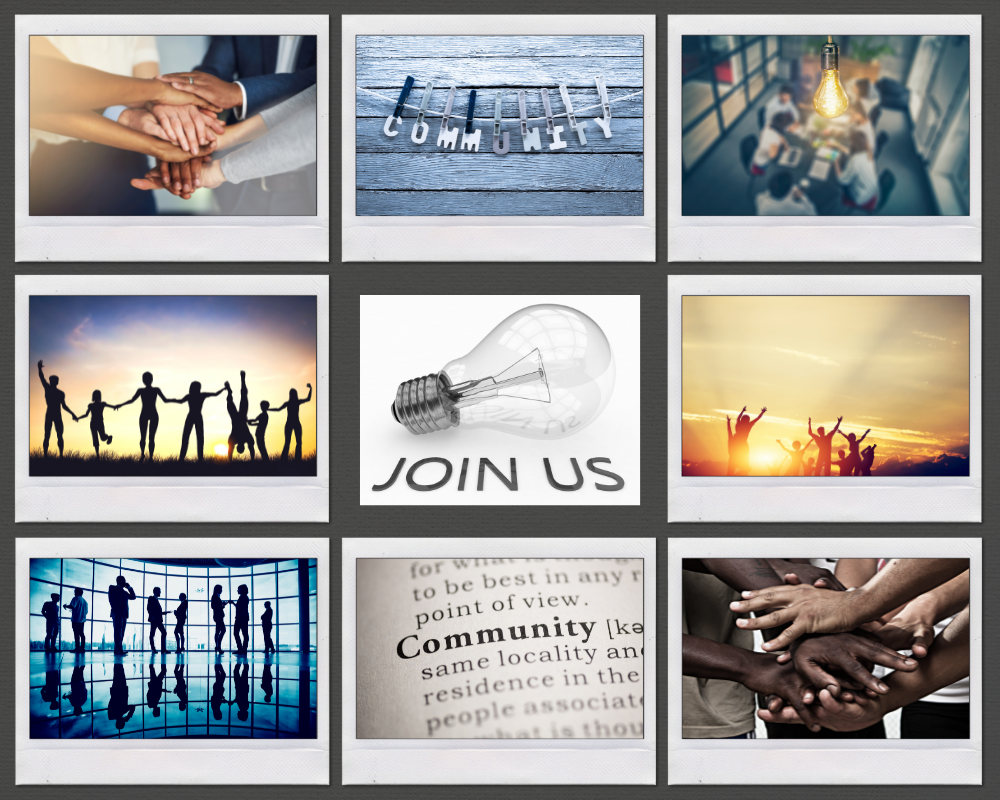 You are a PROFESSIONAL.
LPCANC is YOUR PROFESSIONAL ASSOCIATION.
When you join LPCANC - you join a community of counseling professionals engaged in the practice of clinical mental health counseling. This is a community that was built to support you, celebrate you and help you whether you are just starting or already navigating your professional journey. As a professional, you have already chosen to commit yourself to continuous learning and skill development to help you be your best. With LPCANC, we will help you develop connections and networks to make your profession a successful business practice. Invest in yourself, your profession and your future - you will find that LPCANC is well worth it!
As a member:
Receive regular communications: from

email

updates

and The Counselor's Voice

monthly newsletters

, to e-news with vital information to keep you knowledgeable about the profession, legal changes, and clinical topics.

Engage and connect by

joining a committee

to collaborate with colleagues across the state, to make a difference in the association and our profession, and to help pave the way for future LCMHCs.

Actively support LPCANC's advocacy mission. Did you know that LPCANC is the only organization that hires a

professional lobbyist

on behalf of the entire clinical mental health counseling profession? As a member, you'll get the inside scoop on the

legislative priorities

,

how they impact

our profession, and

advocacy actions

you can take.
Member Benefits:
LPCANC members receive 10 free CE Hours, a

reduced rates on conferences,

and ongoing continuing education events
Exclusive discounts

CPH - Reduced liability insurance rates (malpractice for individual and business)

Professional directory listing

on our Referral Directory
Unlimited posting of job announcements in our

Job Ba

nk

AATBS courses

(

Association for Advanced Training in the Behavioral Sciences) - NCE & NCMHCE Exam Prep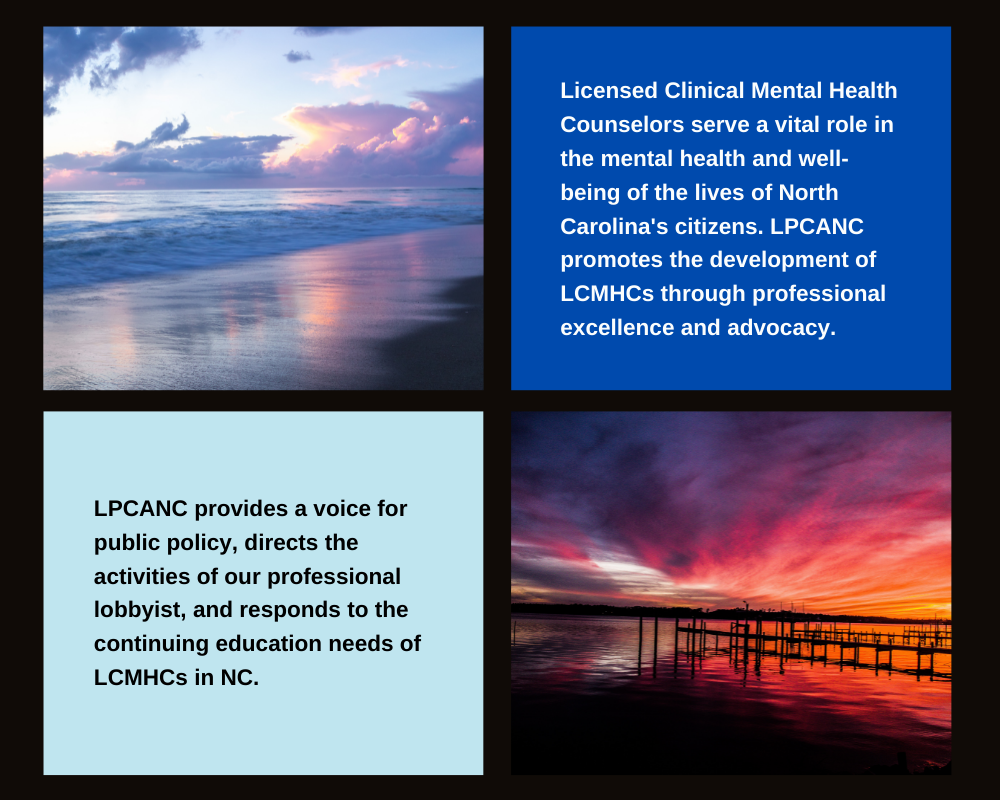 Sometimes it may feel like all you do is study, write papers, and take exams, right?
We definitely understand. But there is more outside of academia waiting for you. And we're here for you!
As an LPCANC student member, your reduced-rate membership offers you the opportunity to connect with peers and licensed counselors to start building your professional identity. Having other students to share fears, goals, and excitements with is priceless! Through the mentorship program, the student membership offers you access to
the knowledge and clinical experiences of
seasoned licensed counselors. S
tudent members also receive a
20% discount
on the Association for Advanced Training in the Behavioral Sciences (AATBS) courses

, which can be very helpful for
students planning to take the National Counselor Exam (NCE).
On the path to licensure, finding a supervisor can be a stressful task. We made it simple, fast, and effective with the
Supervisor Directory
where student members can locate a qualified
LCMHC-S and get started on supervised professional practice without delay. Student membership also offers discounted rates on continuing education workshops, conference events, access to relevant information, and the opportunity to participate in a poster or webinar collaborative presentation.
Student members are highly encouraged to
join LPCANC committees
to build connections and volunteer time and skills to move the profession forward.
Becoming an LPCANC student member will give you a jump start to expand your professional relationships, increase your learning and growth, and provide you with valuable access to expert training and experience.
Your Membership transaction is guaranteed by Authorize.net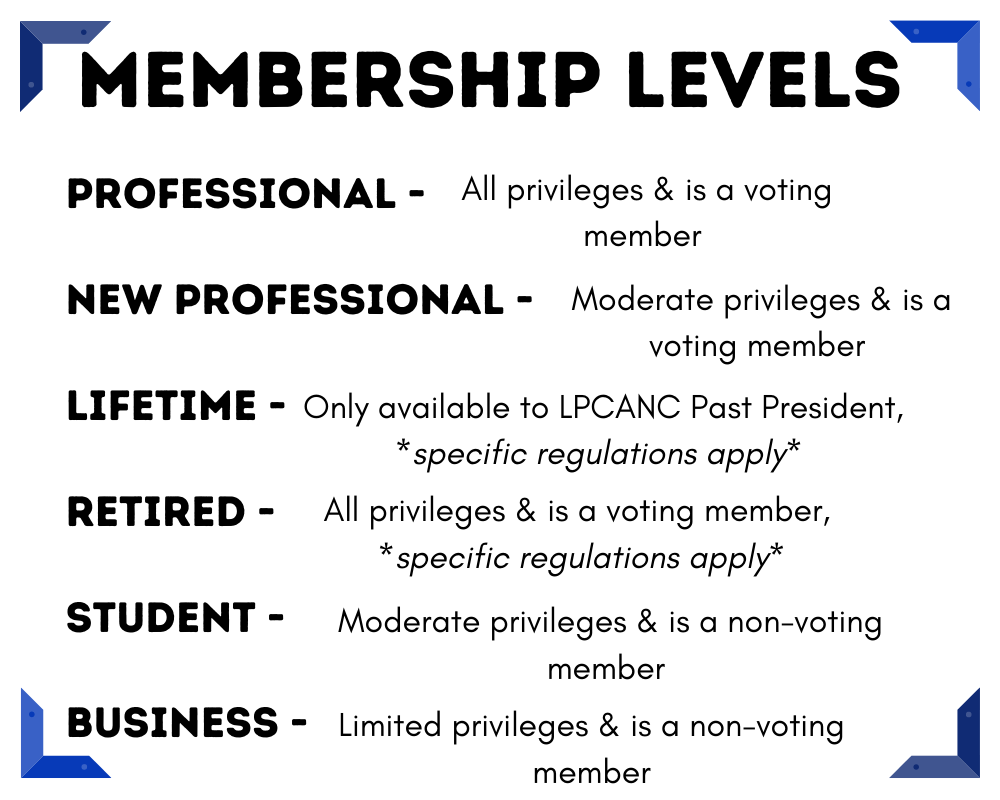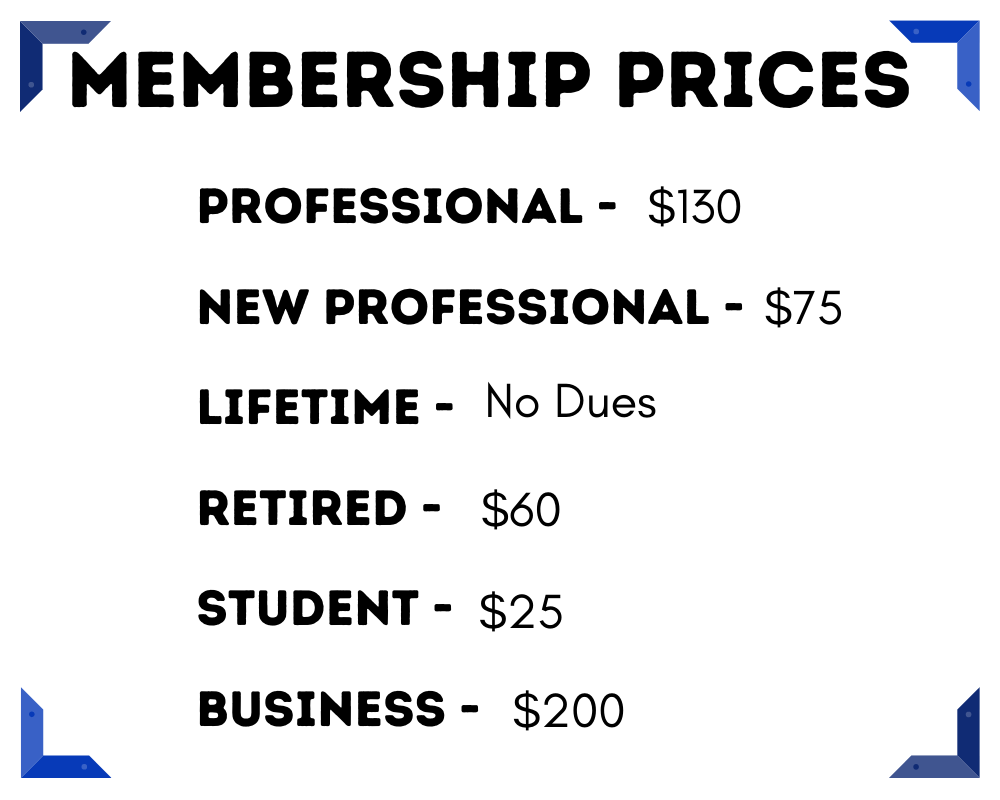 PROFESSIONAL MEMBER
A counseling professional actively licensed as a professional counselor. Members are eligible to vote as members, may seek nomination and be elected to hold office, may be appointed to chair any committee, and serve as a member on any committee or task force.
NEW PROFESSIONAL
Eligibility for the NEW PROFESSIONAL Membership category: (1) A counseling professional seeking NC LCMHC-A licensure or currently licensed in North Carolina as an LCMHC-A. OR (2) A licensed counseling professional who never held membership in LPCANC. This membership is an introductory rate for one (1) year.
Members are voting members, may seek nomination to chair a committee, and may serve on any committee or task force. NEW PROFESSIONALS are not eligible to be elected and cannot hold the elected office of President-Elect, President, or Past-President.
LIFETIME
This is only available to the LPCANC Past Presidents who have served all full 3 terms of the Presidential Sequence starting with President-Elect, President and then Past President. Lifetime members do NOT pay dues but are voting members, re-elected into office, chair any committee, serve on any committee or task force, and donate as desired.
RETIRED
Only available to a counseling professional who is 60 years of age or older and meets all of the following conditions:
Possesses or previously held a full unrestricted license as an LCMHC or LCMHC-S

A professional RETIRED from employment/practice or ONLY working in a limited active paid practice of 10 hours or less per week.
Members may vote as members, may seek nomination to an elected into office, may be appointed to chair any committee, and serve on any committee or task force.
STUDENT
This is only available to a graduate student providing confirmation of enrollment in a CACREP accredited Master's or Doctoral counseling education program. Student membership is available for four (4) years.
Student Members may join any committee, serve on a task force, and in particular, join the University Relations Committee.
However, Student members are not voting members, cannot chair a committee, nor hold office of President-elect, President, or Past-President.
IMPORTANT NOTE: Doctoral students who hold a LCMHC (license) are strongly encouraged to join as a Professional Member to have voting rights and/or hold an elected or appointed office position.
BUSINESS
This category has 2 types and is only available to mental health related practices and businesses that support the LPCANC mission. BUSINESS MEMBERS receive:
BUSINESS CLINICAL - Available to licensed counselors with businesses and practices. This category provides the combined privileges of PROFESSIONAL level membership entitlements with BUSINESS privileges. *Members have same privileges as PROFESSIONAL MEMBERS.
BUSINESS - Available to mental health/counseling related businesses that support the LPCANC mission Members cannot be voting members, chair any committee, or hold office of President-elect, President, or Past-President. Members can be a member of any committee or task force.
Unlimited posting and access to the job bank resource;

Business micro-webpage option on the LPCANC website

Featured in The Counselor's Voice monthly Newsletter

Highlighted Listing in Business Member section of LPCANC

Logo on LPCANC website

Opportunity to host LPCANC webinar and/or micro-conference

Profile opportunities in LPCANC 2023 Networking Zoom events