Sponsorship & Exhibitor Information Page
LPCANC Silver Anniversary Conference
September 29, 2022 - October 1, 2022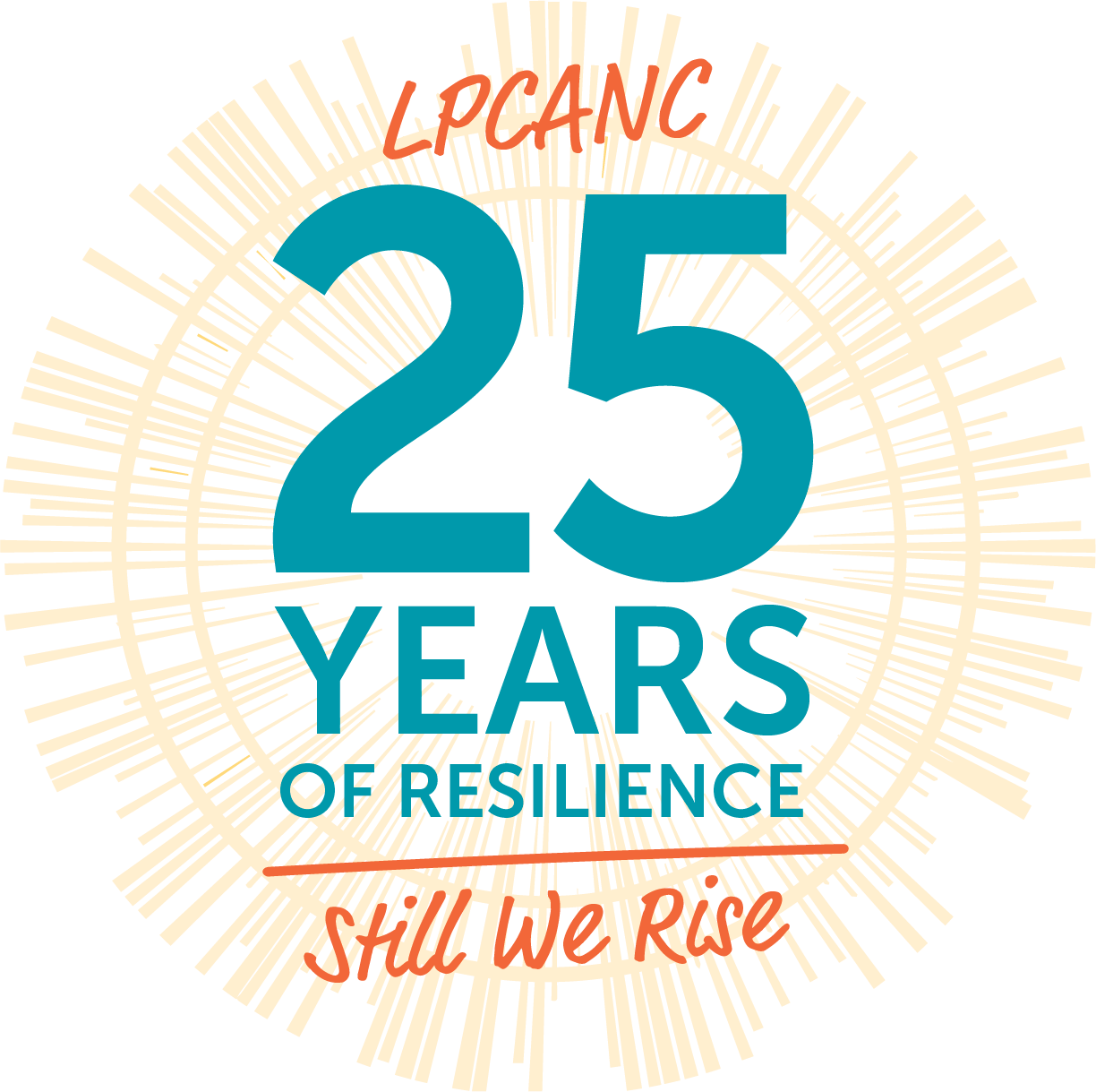 A Special Invitation from LPCANC 2021
President - Suzanne L. Walker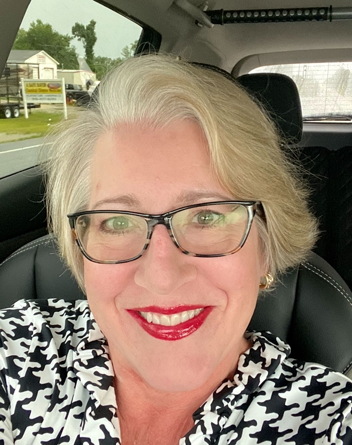 Join us from Sept. 29th to Oct. 1st, 2022 in partnership and celebration at our Silver Anniversary Conference in Winston-Salem, NC. LPCANC values our partners and teammates in mental health and behavioral healthcare services and our big Anniversary celebration won't be a special event without you!
Our Silver Anniversary Conference (and Annual Conference) is a 2 year overdue celebration of our 25th Anniversary postponed from 2020. LPCANC, founded in 1995, has held 24 successful annual conferences. This 2022 Conference is already a highly anticipated event for hundreds of NCs Licensed Clinical Mental Health Counselors who know our reputation for delivering outstanding conference experience. From September 29th thru October 1st 2022, hundreds of licensed counselors will gather in Winston-Salem for training, fellowship, and networking. Your sponsorship will introduce and connect your organization to our members, our colleagues and link you to over 10K licensed counselors around North Carolina and other states.
Our 2022 Conference theme: LPCANC - And Still We Rise: 25+ Years of Resilience, reflects the core of our Association, our clinical mental health counseling profession and the essence of what we all need to thrive. The 2022 Conference will offer 3-days of high-quality professional education focused on: advancements in mental health & wellness, Clinical Mental Health Counseling tracks, behavioral health current affairs & trends.
During our 3-day conference in Winston-Salem, your company will have many opportunities to introduce your brand and products, participate in our Networking and Job Fair with opportunities for contacts and talent acquisition, and increase your brand exposure and visibility. We'd love to have you join us as we celebrate our Silver Anniversary and also acknowledge and honor the work we are so proud to do. Please take a moment to review our Sponsorship and Exhibitor Prospectus to find your company's perfect opportunity. We limited the number of key sponsorships for special emphasis. Secure your sponsorship early.
A Warm Welcome from LPCANC's
Conference Chair -

Carmen Davis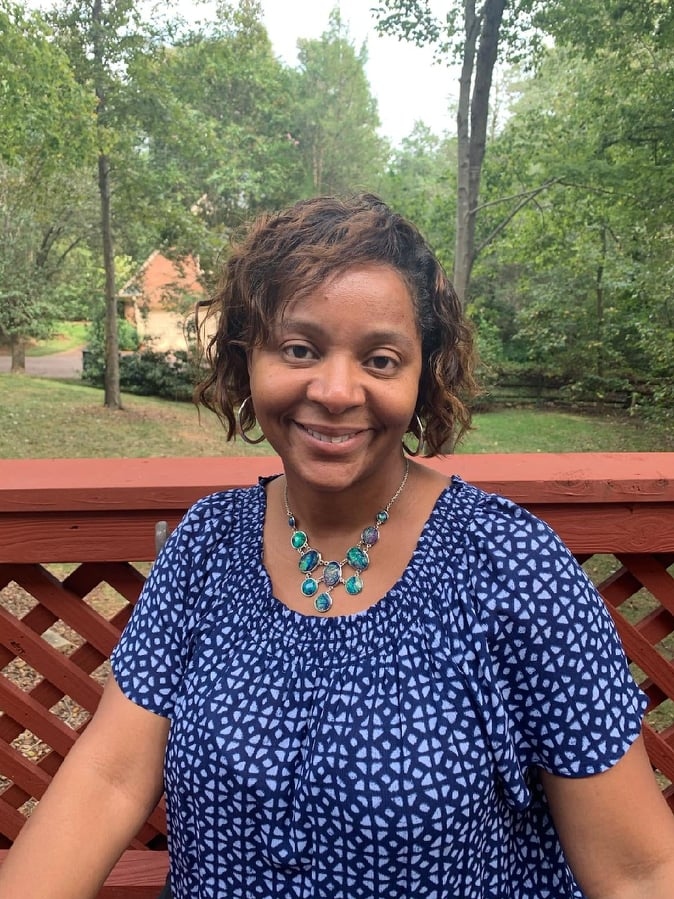 We are excited to announce our Silver Anniversary Conference to be held in the beautiful city of Winston-Salem, NC from September 29th – October 1st, 2022. Our Conference will have sessions dedicated for sponsors/exhibitors and more space to network and showcase your brand to hundreds of clinical mental health counselors from all over the state.
We are planning our 2022 event to be larger and more prolific than in previous years. We hope you'll join us in our Silver Anniversary celebration as we take this annual conference to the next level. LPCANC's Silver Anniversary Conference will provide rewarding opportunities for professional networking, camaraderie, and of course, the all-important continuing education training emphasizing resiliency in mental health professionals and those we serve.
Our 2022 Conference theme: LPCANC - And Still We Rise: 25+ Years of Resilience will offer high-quality educational sessions focused on advancements in the profession of clinical mental health counseling. As we celebrate over 25 years of longevity in serving those in need of mental health services and advocacy in our state, this prospectus details the wide array of sponsorship opportunities we have designed to suit your business marketing needs. We have a limited number of highly sought after sponsorship opportunities that always sell out. We encourage you to secure your commitment early. Register Now!
On behalf of the entire LPCANC Conference Team, we look forward to partnering with you and your company to help us make our 2022 Silver Anniversary Conference be our most exciting and rewarding clinical counseling conference yet.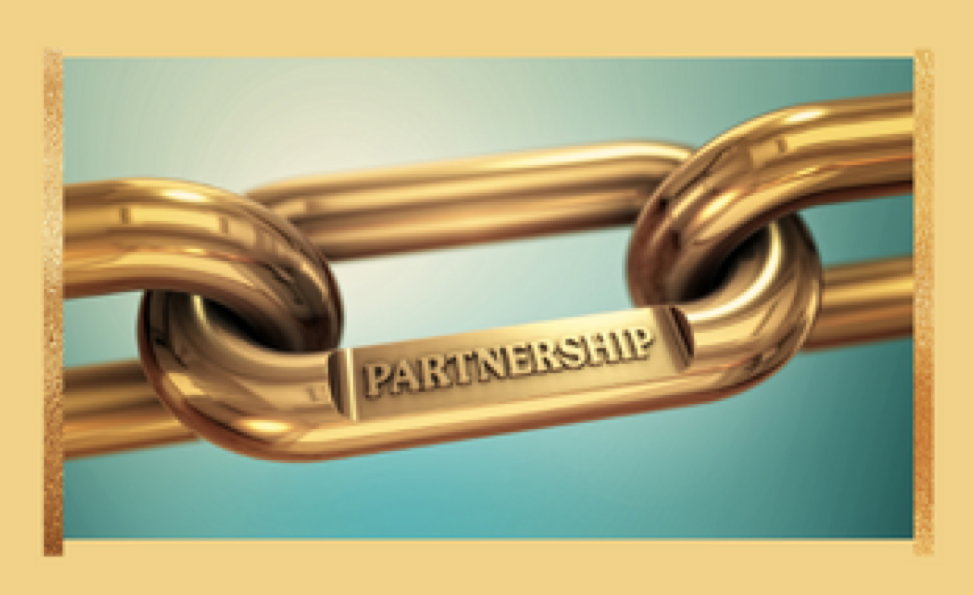 LPCANC at a Glance
As the ONLY North Carolina professional association for Licensed Clinical Mental Health Counselors (LCMHC), the Licensed Professional Counselors Association of North Carolina (LPCANC) is the professional home to many hundreds of licensed counselors .
In 1995, LPCANC was founded and operates today as a 501c6 nonprofit professional membership organization focused on the professional needs of licensed counselors. Our mission is to encourage professional excellence in licensed counselors' professional development by providing a continuum of education and advocacy. As an association of licensed mental health professionals, LPCANC is dedicated to the mental health and wellbeing of all citizens of NC.
Our members:
Licensed Clinical Mental Health Counselors - Supervisors (LCMHC-S)

Licensed Clinical Mental Health Counselors (LCMHC)

Licensed Clinical Mental Health Counselors-Associates (LCMHC-A)

Counseling Graduate Students and Interns

Retired Licensed Counselor
Typical work settings of LCMHCs:
Clinic and Practice Owners

Mental Health Directors, Managers, and Consultants

Hospitals, Outpatient and Acute Settings

EAP

Businesses

University and College Educators

Educational, School and College Counselors

Drug and Alcohol Recovery Settings

Detention and Correctional Centers
U.S. Armed Forces (Active Duty, Guard, & Reserve)

V.A. and Department of Defense

NC DHHS and its 15 Divisions

Mental Health, Halfway and Residential Facilities

Managed Care, North Carolina

LMEs

and

MCOs

Career and Vocational Consultants
Marriage and Family Counseling

Faith-based Counseling

Rehabilitation Counseling

Sports & Performance Counseling & Coaching

Wellness Coaching

Behavior Management

Art and Creative Therapies

NC County Social Services
Why Sponsor LPCANC's

Silver

Anniversary Conference?

STAND OUT & RAISE YOUR VISIBILITY - Our attendees & members look to our sponsors and exhibitors first as their strongest marketplace options since LPCANC has already vetted & approved our conference sponsors. Sponsorship instantly raises your visibility profile as your brand visuals are profiled front & center to a very large audience via our LPCANC website, newsletter , emails, and social media mentions before, during, and after our 2022 Conference. Important note: Conference attendees always remember our conference sponsors & exhibitors because they read about them, meet them, & then see them face-to-face.

BUILD BRAND AWARENESS - Our innovative and unique sponsorship opportunities will help you target audiences while on-site, as well as, beyond the conference with opportunities that will produce more value and increased views.

MAJOR INFLUENCERS ATTEND - Our conference is custom-designed for licensed counselors, counselor-educators, graduate students, business practice owners, and clinical supervisors. Sponsorship creates the most direct & cost-effective marketing channel between your brand and potential customers! With web-based virtual fatigue, attendees are eager to meet & talk face-to-face.

MORE PRODUCTIVE NETWORKING AND TALENT RECRUITMENT - Our sponsors and exhibitors get targeted recognition. Imagine making new contacts when they walk right up to you? Exhibit Spaces will create a static place for attendees to talk & learn about your company. LPCANC Conferences attract high-caliber attendees often looking to advance their careers when a new opportunity arises.

GET MAX VALUE & BENEFIT - Benefits for Sponsors & Exhibitors start when you sign up. The earlier you sign up, the greater the marketing benefit! Months of additional showcased promotion allows even those not attending the event to learn about your company and reach out for information. Sponsorships actually save you marketing costs: The Center for Exhibition Industry Research (CEIF) reports it costs 62% less to close a lead from a conference or trade show than one originating in the field.
Conference Fast Facts
LPCANC's
SILVER
Anniversary Celebration!
3-Full Days of Professional Conference
September 29 - October 1, 2022
North Carolina's Beautiful Twin-City: Winston-Salem
Steps away from the Marriott
Easy to access Benton Convention Center
Hundreds of Enthusiastic Attendees
Silent Auction Scholarship Fundraiser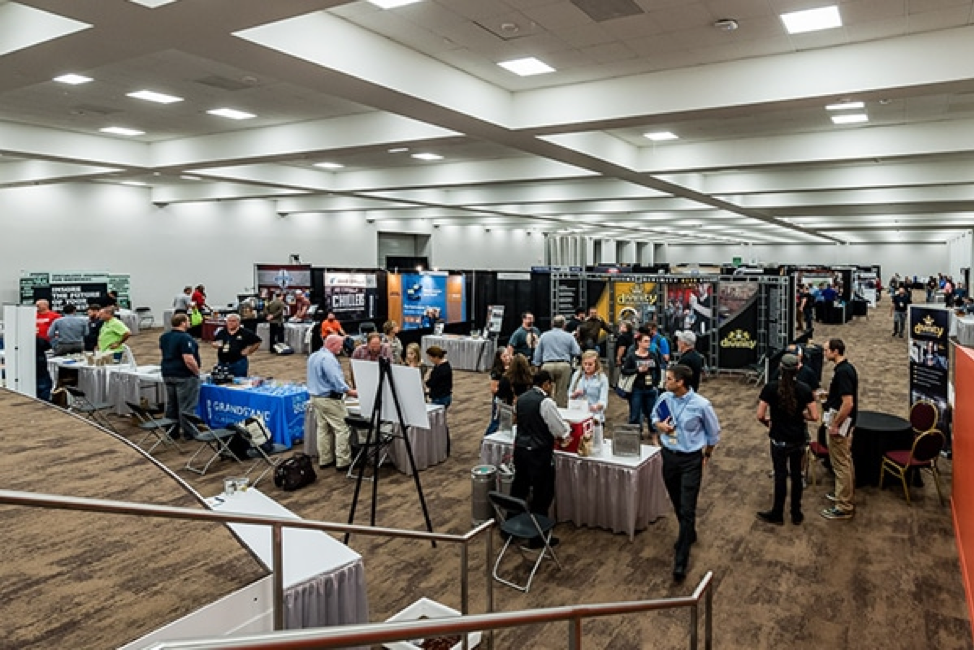 The Venue & Hotel
The Benton Convention Center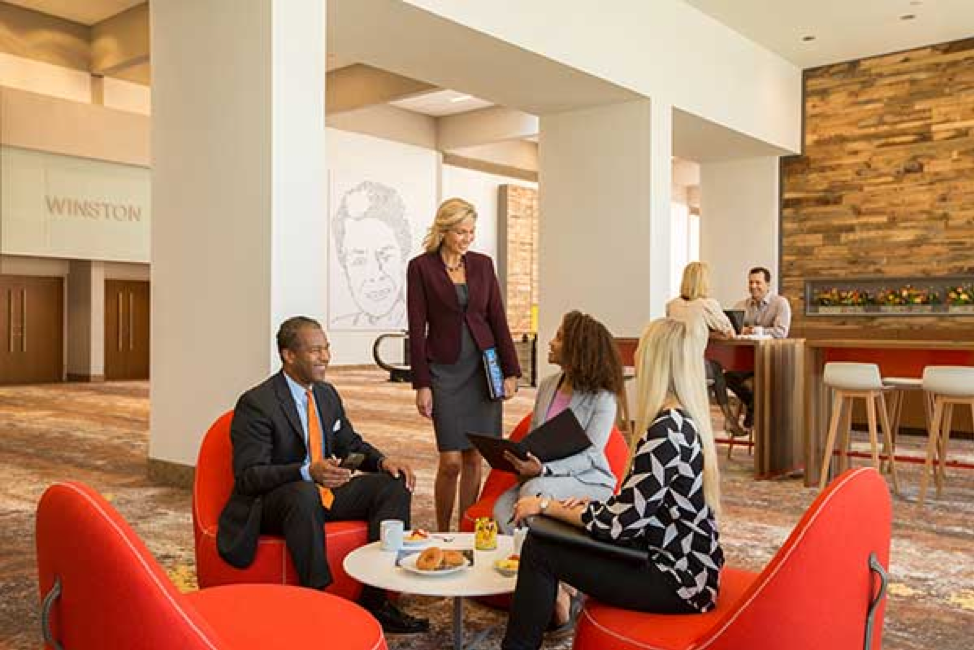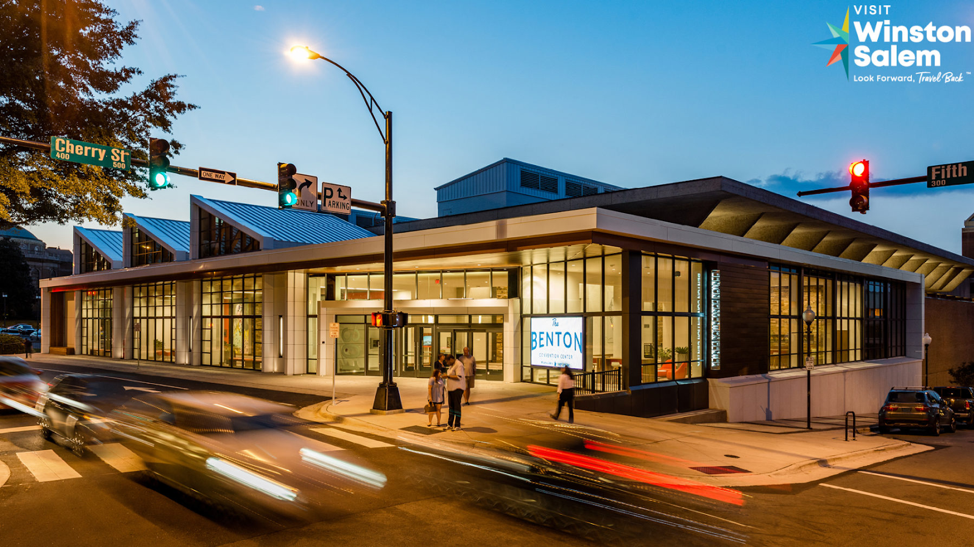 A few steps away from the Benton Center Conference is the...
Marriot Bonvoy
Thursday Sept 29 thru Saturday Oct 1, 2022
425 N. Cherry Street, Winston-Salem, NC

Expand Your Opportunities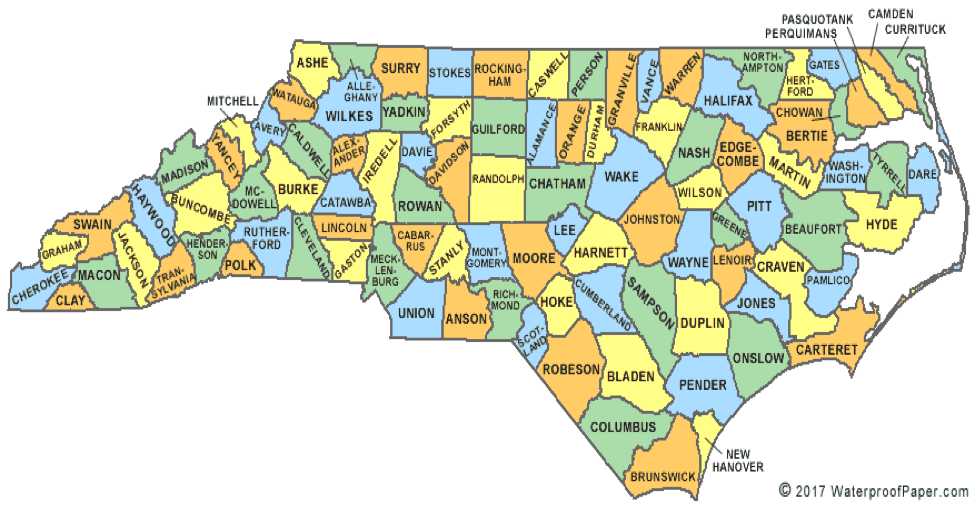 Your company sponsorship will reach +10K Licensed Counselors across North Carolina
Sponsorship Opportunities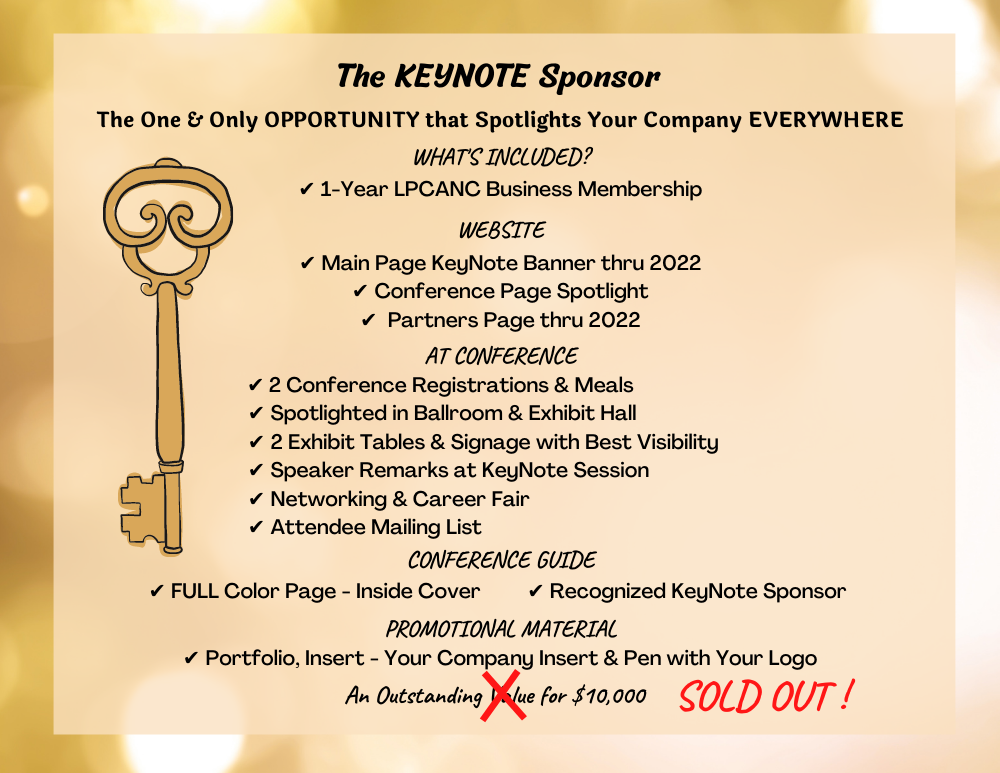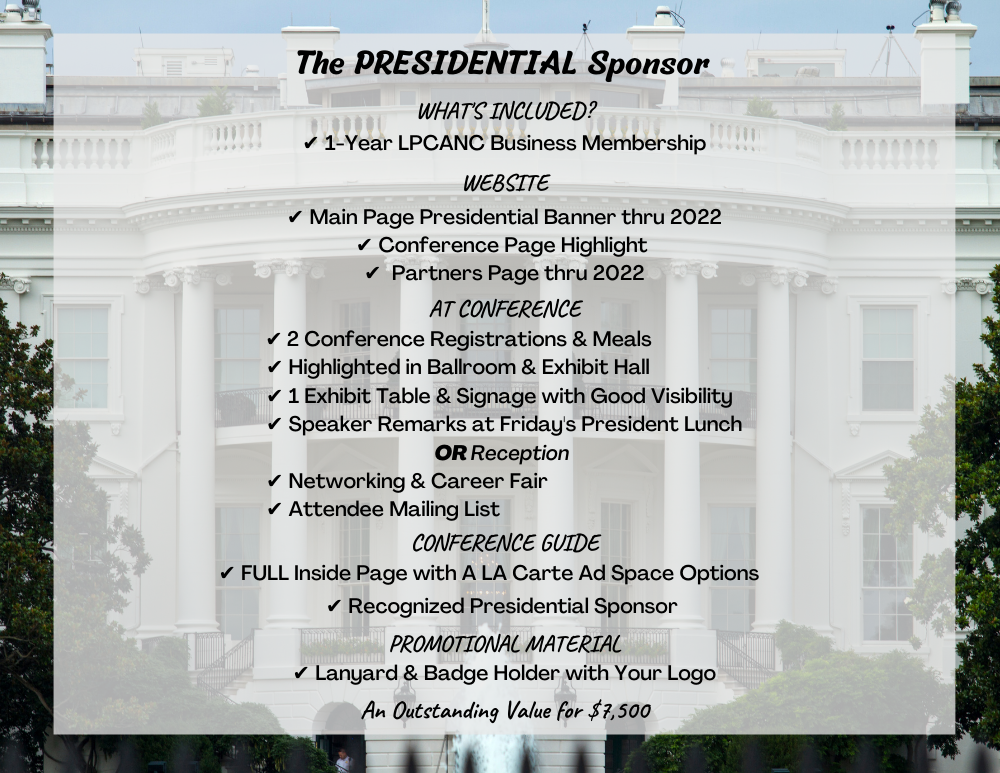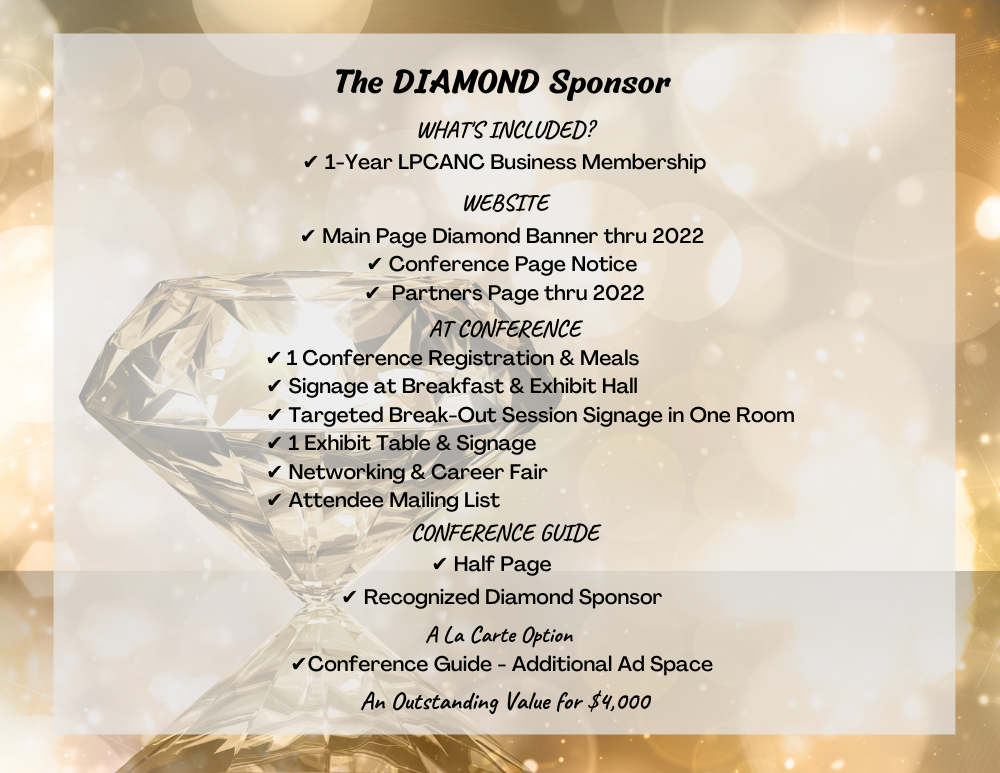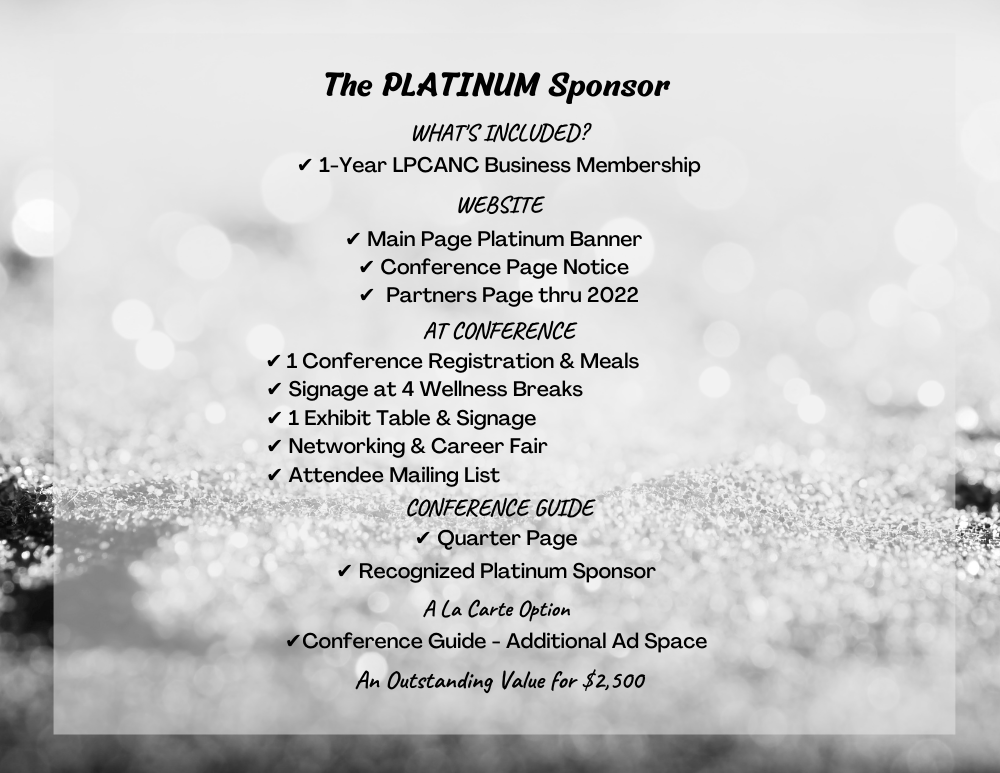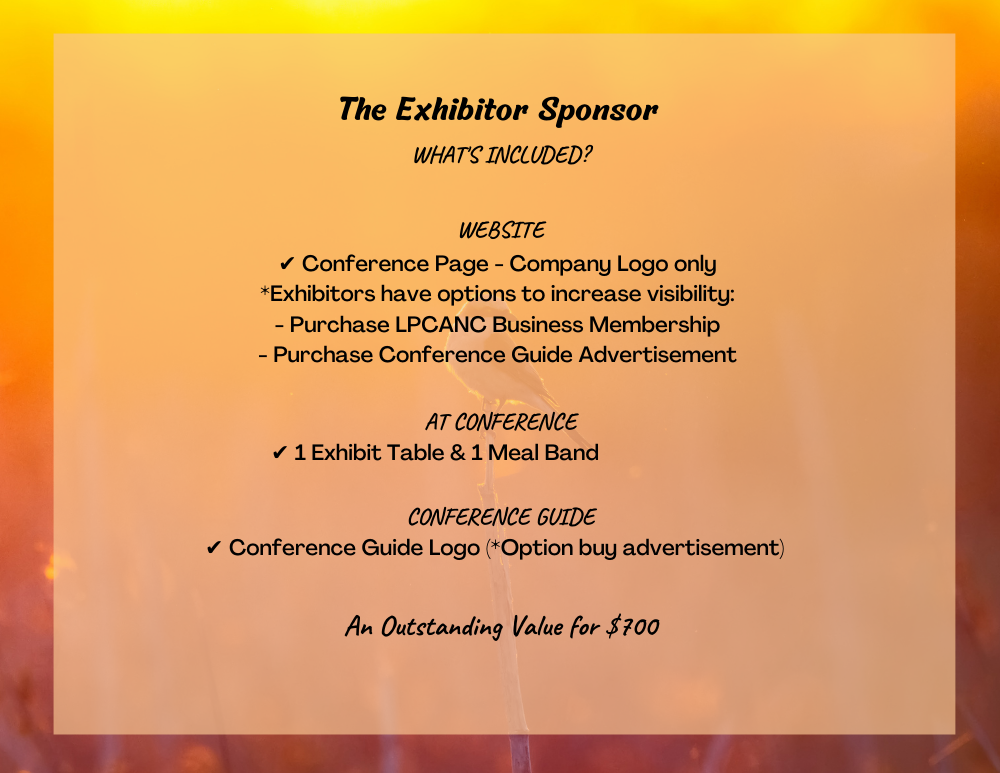 C
areer and Networking Fair - Friday September 30, 2022
Table - $75 each - Attendees & Exhibitors

Table - $100 - LPCANC Business Member & Non-Conference Attendee

Table - $250 - Non-Conference Attendee
Conference Attendee Mailing List
Attendee List - $250 each - Exhibitor

Attendee List - $250 each - LPCANC Business Member
Author's Corner: Promote Your Book at Friday and Saturday's Lunch
$50 for Attendees, Exhibitors & LPCANC Business Members

$100 for Non-Conference Attendees
Conference Program Guide

LPCANC reserves control over size & layout, and will consult with the advertiser.
Contact
info@lpcanc.org
for ad size full specs.
All
Ads due: 7/5/2022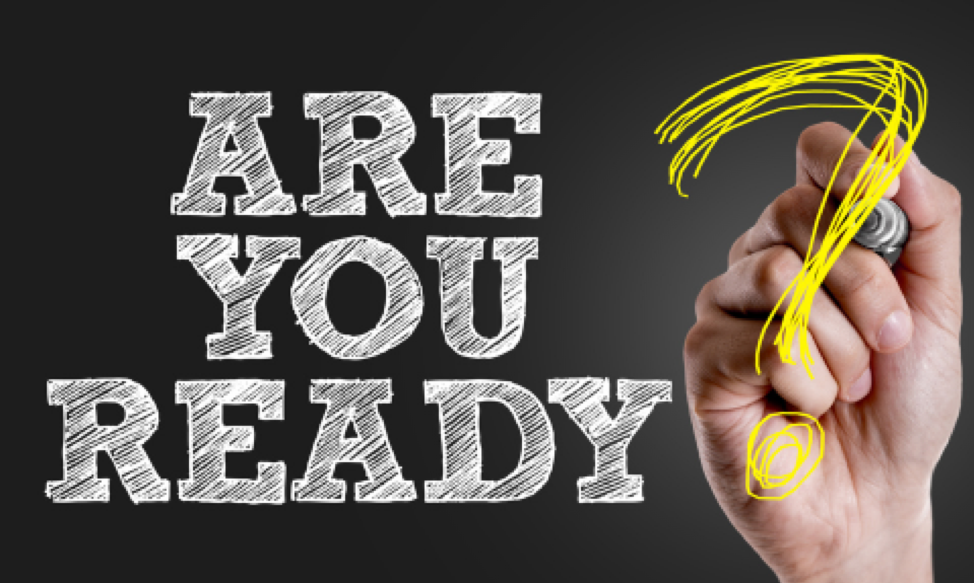 To Sponsor
LPCANC's Silver Anniversary Conference?
For more information, contact: conference@lpcanc.org or call (919) 714-9095
IMPORTANT EXHIBITOR DETAILS
Sponsor and Exhibitor Registrations ENDS
July 1, 2022
- Registrations received after this day may not be included in any printed conference documents or included in the Guidebook app. Payments must be received by LPCANC to avoid a $250 late fee.
Conference Program Guide Advertisement is
DUE
July 5, 2022
– All sponsors, exhibitors, and ads must submit vector-based ads and logos to LPCANC. Payments must be received by LPCANC to avoid a $100 late fee.
Pre-Conference Exhibit Installation & Set-up
Thursday, September 29, 2022
12:00 - 6:00 pm
Pre-Conference:
Thursday, September 29, 2022
8:00 am
Conference Begins:
Friday, September 30, 2022
8:00 am
Conference Ends:
Saturday, October 1, 2022
5:00 pm
Exhibit Dismantling:
Saturday, October 1, 2022
4:00pm
Release of Exhibitor Service Information - Exhibitor service information will be sent via email and available online approximately 60 days prior to the conference. The exhibit service information will contain details regarding purchasing additional equipment, electrical services, internet connection, audio-visual equipment, shipping & drayage, and payment terms.
LPCANC's
Silver
Anniversary Conference
SPONSORSHIP AND EXHIBITOR TERMS OF SERVICE AGREEMENT
My company is applying for Sponsorship of the 2022 LPCANC Silver Anniversary Conference to be held September 29th thru October 1st, 2022 at the Benton Convention Center in Winston-Salem North Carolina. T
he undersigned, on behalf of the Applicant, its employees, agents, contractors, and subcontractors agrees to comply with the Sponsorship Prospectus, Exhibitor Service Information, and Exhibitor Letter of Agreement.
We understand that this application becomes a contract when accepted and digitally signed. This completed form is considered binding on both the Sponsor and the LPCANC Conference. All spaces, other than Main Sponsors, will be assigned on a first-come first-served basis and at LPCANC's discretion. All correspondence will be sent directly to the Sponsor's authorized representative as indicated above.
REFUNDS AND CANCELLATIONS
Sponsorships are non-refundable. Exhibitors requests for cancellation and refund may be granted on a case-by-case basis for extenuating circumstances pending a written request to Carmen Davis, LPCANC Conference Chair,
conference@lpcanc.org
. Deadline - July 5, 2022.
ONLINE EXHIBITOR AND SPONSOR REGISTRATION
Exhibitor and Sponsorship Registration (with payment by Visa, MasterCard, or check) begins on Monday, November 15, 2021 and is only available online. Please go to LPCANC Conference Registration (LINK) to register! If it is necessary to make payment by check, it must be received by April 15, 2022
to avoid forfeiture or a $250 late fee. Electronic Banking is the preferred method of payment. For checks, remit by mail to LPCANC at P.O. Box 58362, Fayetteville, NC 28305.
For Exhibitors ONLY:
If payment is not received by LPCANC by 30 days before the LPCANC 2022 Silver Anniversary Conference, we require the Exhibitor to pay via credit card to include an additional $200 administrative late fee.